Perfilman Nasional Tahun 1970-an Hingga 1980-an
Hadiatul Fadhilah

Universitas PGRI Sumatera Barat

Meri Erawati

Universitas PGRI Sumatera Barat

Zulfa

Universitas PGRI Sumatera Barat
Abstract
This research aims to look at the development of Indonesian film from the 1970s - 1980s based on the increase in film genres and the increase in film production in Indonesia, so that the technology that began to become sophisticated in Indonesian filmmaking was a form of the glorious decade of film. The results of this study are the number of films produced during the years 1970-1980 as many as 618 titles. With a classification of 370 drama genres, 72 action genres, 23 horrors, 26 fantasy, and 127 comedy titles. The 1970-1980s also gave birth to phenomenal artists and films such as Remadja Bride (1971), Sidoel anak Betawi (1973), First Love (1973), My Love on the Blue Campus (1976), Hurricane Pasti Berlalu (1977), Sexy Waitress Inem (1977), and Gita Cinta dari SMA (1979) also gave birth to the nickname Sex Bomb for female artists who dared to appear open to the adult scene in the film, Suzana, Yati Oktavia, is an artist who gets the nickname Sex Bomb.
References
Abduh Aziz, M., Jauhari, H., Abduh Aziz, M., Danujaya, B., & Casmadi, J. (1992). Layar Perak: 90 tahun Bioskop di Indonesia. Gramedia Pustaka Utama.
Ardiyanti, H. (2017). Perfilman Indonesia: Perkembangan dan Kebijakan, Sebuah Telaah dari Perspektif Industri Budaya [Indonesian Film: Development and Policy, A Study from the Perspective of the Cultural Industry]. Kajian, 22(2), 79–95. http://jurnal.dpr.go.id/index.php/kajian/article/view/1521/789
Fitriadi. (2017, October 18). Hebohnya Menonton Film di Bioskop Tempo Doeloe, dari Rebutan Kertas Iklan Hingga Kacang Arab. Bangka.Tribunnews.Com, 1–4. https://bangka.tribunnews.com/2017/10/18/hebohnya-menonton-film-di-bioskop-tempo-doeloe-dari-rebutan-kertas-iklan-hingga-kacang-arab
Herlina, N. (2020). Metode sejarah. In Satya Historika (Vol. 110, Issue 9). http://digilib.isi.ac.id/6127/2/Pages from Metode Sejarah Revisi Akhir 2020.pdf
Ningsih, W. L. (2021, July 14). Sejarah Perfilman di Indonesia. Kompas.Com, 4. https://www.kompas.com/stori/read/2021/07/14/150000979/sejarah-perfilman-di-indonesia
Rosy Dewi Arianti Saptoyo. (2021, September 22). Sejarah Terbentuknya Warkop DKI. Kompas.Com, 2. https://www.kompas.com/tren/read/2021/09/22/200000365/sejarah terbentuknya-warkop-dki-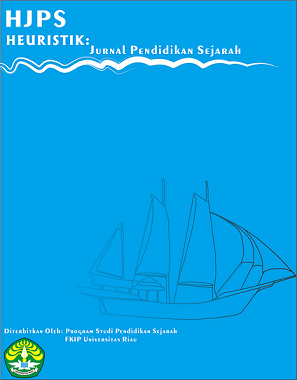 How to Cite
Fadhilah, H., Erawati, M., & Zulfa. (2023). Perfilman Nasional Tahun 1970-an Hingga 1980-an. HEURISTIK: Jurnal Pendidikan Sejarah, 3(1), 48-54. https://doi.org/10.31258/hjps.3.1.48-54
Copyright (c) 2023 HEURISTIK: Jurnal Pendidikan Sejarah
This work is licensed under a Creative Commons Attribution-ShareAlike 4.0 International License.